What Should You Look for During Your Free Look Period?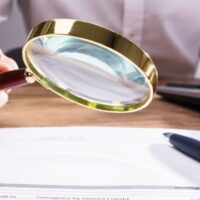 There is still no free lunch, but state laws guarantee you a free look when you buy life insurance. It's not exactly try-it-before-you-buy-it; first you buy it, then you try it. But if you don't like what you see during your free look period, you can cancel your policy and get back any money paid, and it's like you never had a policy in the first place. No harm, no foul. Sound good? Let's explore more.
What Is the Free Look Period?
Every state includes a free look period in its statutes governing life insurance policies. Insurance companies are required by law to include a free look period that meets at least the minimum requirements set out in the law. The free look period applies to policies that have been purchased and delivered to the policyholder, and the policy is in effect during the free look period. In other words, if the covered individual dies during the free look period, the insurance company owes the applicable policy benefit to the designated beneficiary.
During the free look period, the policyholder can decide to cancel the policy by notifying the insurer of the desire to cancel. Once canceled, the insurance company is required to return and refund any premiums paid along with any agency or policy fees paid to effectuate the coverage. A free look cancellation voids the policy and puts the former policyholder in the same position as if they had never bought the policy in the first place.
How Long Is the Free Look Period?
The free look period is very brief. In the majority of states, the minimum required period is ten days, although insurance carriers could lawfully provide a longer period if they chose to. A few states require a longer free look period. As best as we can determine, all states have a ten-day free look period with the exception of the following states which provide a longer period:
Florida – 14 days
Colorado – 15 days
Idaho – 20 days
North Dakota – 20 days
Rhode Island – 20 days
Wisconsin – 30 days
Wyoming – 30 days
The applicable period, along with the method for canceling, should be clear and prominent on your insurance policy. California's statute, for instance, requires that information about the free look period be "printed on the front of the policy jacket or on the cover page…"
The Importance of the Free Look Period
After the free look period is over, you can still of course cancel your policy, but you won't get any premiums refunded. Plus, if you still want life insurance, you will have to reapply, either with the same company or another provider. Either way, you would likely need to go through underwriting again, which means another health history questionnaire and physical examination, and if a few years have passed, you might be in a higher premium age category. You're better off doing your homework on the front end and getting a policy that works for you, considering the hassles and downsides of applying for a new policy. Of course, you shouldn't feel like you are locked into a policy that doesn't meet your needs. If you need to change policies but the free look period has passed, do some research online or visit with an agent to find out what your options are.
Why Cancel During the Free Look Period?
So, you know you have a brief free look period. What should you look for during that time? Why might you want to cancel? Most free look periods come and go without any cancellations, but there might be times when you have good reasons to have second thoughts. Logical bases for canceling during a free look period include:
Buyer's remorse
You didn't carefully review the policy before you purchased it
You didn't fully understand what you were getting
You got a new job that offers life insurance as a fringe benefit
You did some comparative shopping and found a better policy elsewhere
You learn about reputational problems with the company
You no longer need a life insurance policy
Your needs have increased
In the internet age, it seems the time has come and gone when an insurance agent would come out to your house and spread out all the paperwork at the kitchen table, making sure you understand what you were getting. If you pulled the trigger too quickly and bought a policy online or from a captive insurance agent, use the free look period to run the policy by a trusted friend or family member, or a professional like an independent agent who can help you feel like you made a good decision or point out any red flags.
The free look period is a valuable consumer protection, so take advantage of that period to look over your policy by yourself, with a friend, attorney or other professional, and make sure you are comfortable with what you've bought. Life insurance provides peace of mind and valuable protection, and the free look period is an important part.
Has Your Insurance Claim Been Denied?
Contact Us Today To Learn About Your Legal Options