Servicemembers Group Life Insurance: What It Is, Who Is Eligible, and Why Claims Most Often Get Denied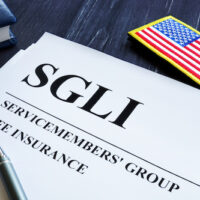 The people who put their lives on the line to defend our nation and our freedoms deserve to be venerated for their dedication and sacrifices. Active-duty servicemembers and veterans are awarded a variety of benefits for their service, and with good cause. Unfortunately, utilization of these benefits does not always play out smoothly. Families of covered servicemembers are entitled to life insurance benefits when the insured party passes away, but in many cases claims are delayed for weeks or months if not flat-out denied.
Below we explain various important facts about SGLI policies, claims and denials. If your loved one has passed away and you have not been given the life insurance benefits you are owed, an insurance law attorney may be needed to help you get the benefits you are entitled to.
What Is SGLI Coverage?
Servicemembers Group Life Insurance (SGLI) is a life insurance policy available to servicemembers to help ease the pain and financial hurdles experienced by their families due to their passing. SGLI policies can be valued at up to $400,000 and are meant to pay for expenses such as funeral costs, medical bills, lost income, and other crucial bills. All U.S. active-duty servicemembers are entitled to SGLI coverage.
Within a year and 120 days after discharge, servicemembers can apply to convert their SGLI policy to a VGLI policy, for veterans' coverage after service. Veterans who apply for VGLI within 240 days of discharge do not need to submit evidence of good health. Veterans who wait more than 240 days after discharge to apply must answer a questionnaire about their health.
SGLI Eligibility
SGLI provides affordable life insurance coverage to active servicemembers. All active duty servicemembers are automatically granted full-time SGLI coverage, including:
Active duty members of the U.S. Army, Navy, Air Force, Marines, or Coast Guard
Commissioned members of the NOAA
Commissioned members of the USPHS
Cadets or midshipmen at U.S. military academies
Cadets or members of the Reserve Officers Training Corps ROTC program engaging in authorized training and practice cruises
Members of the Ready Reserve and National Guard who are scheduled to perform a minimum amount of inactive training
Servicemembers who volunteer for a mobilization category in the Individual Ready Reserve (IRR)
Why Are SGLI Claims Denied?
Unfortunately, like all life insurance, obtaining benefits upon a triggering event is not always a simple, straightforward process. SGLI claims may be delayed or denied for a variety of reasons. When wrongful claim denials are made without justification or in bad faith, it's possible to fight back with the help of an attorney. Some of the reasons SGLI claims are commonly denied include:
AWOL Status. SGLI claims may be denied if the insured was designated as AWOL (absent without leave) at the time of death.
Beneficiary designation errors. Claims may be denied because no beneficiary was designated by the servicemember, there was an error in the process of changing the designated beneficiary, or there is a dispute or contest concerning the beneficiaries.
Inactive duty. SGLI claims may be denied if the insured was designated inactive at the time of their death.
Failure to convert coverage. SGLI policyholders must actively apply for conversion to coverage for veterans or secure commercial coverage after discharge. If they fail to do so, then benefits could be denied.
Ineligibility. SGLI claims might be denied if the insured was allegedly ineligible for SGLI coverage for some reason.
Failure to pay premiums. Failure to pay premiums can lead to a lapse in policy coverage.
Incorrect form submission. Life insurance requires working through all relevant administrative hoops, and any alleged misstep can lead to unnecessary claim denial.
If you are a surviving spouse or child of a current or former uniformed servicemember who passed away, check to see whether there was a valid SGLI or VGLI policy in place and what you need to do to claim benefits. If you are unsure what to do or your claim was denied, an insurance law attorney can advise you and advocate for you so you get the benefits you are entitled to you.
Has Your Insurance Claim Been Denied?
Contact Us Today To Learn About Your Legal Options