What Do Insurance Companies Do With Consumer Complaints? Hide Them From Investors, of Course!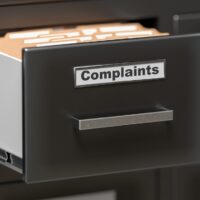 On July 20, the Securities and Exchange Commission (SEC) announced that it had filed charges against a health insurance company for hiding a long list of consumer complaints from the company's investors. According to a press release issued by the SEC, Health Insurance Innovations (HII) lied to investors during multiple earnings calls and presentations to investors. The misrepresentations included telling investors that its distributors were held to high standards of compliance that barred them from misleading consumers regarding the company's health insurance plans and policies. The company's philosophy and approach, according to HII, helped it yield a 99.99% consumer satisfaction rate and only a very small number of complaints lodged by consumers with state regulators. The truth? HII was actually aware of customer complaints in the tens of thousands complaining about false representations made by the company's distributors in their sales pitches. Further complaints included unauthorized charges to customer accounts and failure to cancel plans after requests to do so by policyholders.
What, if anything, was wrong with the HII health plans anyway? According to the SEC, these policies provided only "minimal health benefits" and did not provide coverage for pre-existing conditions, prescriptions or hospital care. One wonders what the plans actually did provide and if any reasonable consumer would have opted for them absent misrepresentations.
The plans offered by HII also did not meet the criteria for qualifying health coverage under the Affordable Care Act (aka the ACA or Obamacare). The ACA accepts insurance purchased through Medicare, Medicaid, CHIP, TRICARE, plans bought through the Health Insurance Marketplace, most individual plans bought outside the Marketplace, most student health plans, VA plans, and more. But not plans offered through HII and its distributors.
The SEC issued a cease and desist order finding that HII and its former CEO violated federal securities laws including antifraud provisions and reporting requirements. The company's actions resulted in inflated stock prices that the company then sold at a profit. HII and its former CEO have agreed to comply with the order, and although they have neither admitted nor denied the allegations and findings of the SEC, HII has agreed to pay a penalty of eleven million dollars, and the former CEO has agreed to pay over one million dollars.
In the wake of these charges, HII has transformed itself into a private company and is now known as Benefytt Technologies, a name implying help and success and vastly distinct from the former Health Insurance Innovations name.
The SEC was able to take action against the company based on violations of federal regulatory laws regarding the offering for sale of securities. The misdeeds recounted by the SEC focused on the company's fraudulent practices toward investors, although the complaints at bottom directly affected consumers who were left without coverage for necessary treatment and stuck with unpaid medical bills. As a policyholder, your legal recourse might require getting a lawyer and suing the company for bad faith. If successful, you should be able to recover all your economic costs, such as hospital expenses and medical bills, costs of worsening health if you delayed or deferred treatment, compensation for emotional pain and suffering, and even punitive damages in appropriate cases. A quality insurance law firm should offer a free consultation to learn about your situation and let you know if they can help. They should also take your case on a contingency fee basis, advancing all costs of litigation and only charging a fee if they are successful, taking their fee from a portion of the monies recovered so it won't cost you anything upfront to pursue justice in your case.
Has Your Insurance Claim Been Denied?
Contact Us Today To Learn About Your Legal Options